KETO RISOTTO "ALLA MILANESE"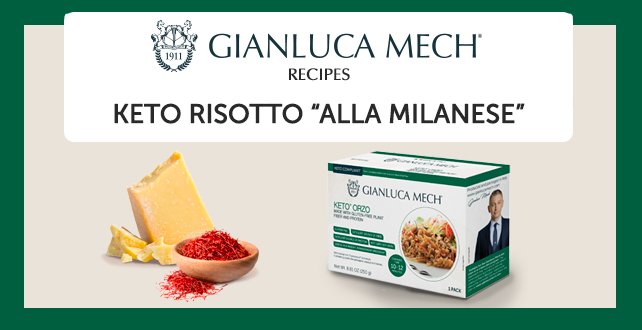 READY IN: 45 minutes

INGREDIENTS:


Keto orzo Gianluca Mech 3,5 Oz
Chopped onion 0,5 O
A saffron sachet (or 10/12 of fresh saffron stigmas)
Grated Parmigiano Reggiano cheese (parmesan) matured for 24 months or more 0,7 Oz
Butter 0,8 Oz
Some extra virgin olive oil
Some boiling water
HOW TO:

1. Pour a tablespoon of olive oil into a pan with the chopped onion until soft.

2. Add the barley and stir for a minute, then start pouring some boiling water, add some
salt, the saffron and keep cooking while stirring.

3. Keep adding boiling water from time to time until the barley is cooked (18 minutes more or less).

4. Turn on the heat, add the Parmigiano Reggiano (parmesan cheese) and the butter
until it melts. Serve it with some extra grated Parmigiano Reggiano (parmesan cheese)
for a delicious taste.